Project Awake and Shine
Village homestays
Home stay cottages have been donated to members of the local community with philanthropic funding, or built by individual owners with philanthropic help from Awake & Shine.. All earnings go to the owners.
Charles Lepchs's homestay at Kabi West
01 x dbl room
INR 2500 for 02 persons with all meals
Awake & Shine School Complex
Awake & Shine Guest house at Garigaon
01 x Dbl suite room with dedicated dining and lounge facility
hosted by Bhujel Nepali family
INR 3500 for 02 persons with all meals
Hit Bahadurs homestay, Gairigaon
01 x Dbl room + sitting room
Use of dining and lounge facility
hosted by Bhujel Nepali family
INR 2500 for 02 persons with all meals
Pushpa Bhujel's homestay, Gairigaon
01 x Dbl room + sitting room
Use of dining and lounge facility
hosted by Phushpa & family
INR 2500 for 02 persons with all meals
Gairigaon home stays -Lounge and dining annex
Guests staying at the three home stays at Gairigaon can use the Lounge and dining Annex at awake & Shine School, Gairigaon
What to expect ?
Village Home stay accommodation caters for comfortable Double / Twin Guest rooms, with furnishings bed and toilet linen. Attached western style toilets are provided for all. Hot water is available on request. Room heaters are provided in winter at extra cost. Extra beds can be arranged for children.
Guests are served on a table set with crockery, cutlery, and table linen. They can also choose a traditional floor sitting service, served in traditional utencils / leaves.
The cuisine provides for either western or Indian style breakfasts with Indian, Nepali, Chinese and Lepcha dishes, for lunch and dinner. Food is home cooked, usually on a wood fire. Local products are used to the maximum extent. Chicken or pork is served for dinner. Lunch is vegetarian
"Our very favourite place of all those we stayed at was Samthar village. There was world of difference between this and the organized tourism we found in Bhutan.. People were very attentive and kind and the food was so nice and well prepared. It was great just to be able to hang out and on the first morning we enjoyed just being with children. Charles was a great guide always willing to engage in conversation about the locality, village life and culture. It was so good to get to meet local people on our walks and be able to visit the heart of life in the valley. We left Samthar a little sad in our hearts - a sign I think that it was possible to get to know people just a bit in a short space of time - enough to glimpse their lives and have a hope for their future wellbeing."

Paul & Helen, UK
Optional Services
Guest can obtain the following services, if desired at extra cost:-
| | |
| --- | --- |
| English speaking guide for Samthar village treks | Rs 500 per day |
| Porters if and when needed | Rs 250 per porter per day |
| Bamboo basket making/ Rice straw mat making / Chang millet beer making: Half day lesson and practice Demo | Rs 500 per activity Rs 300 per activity |
| Cooking lesson 03 x Indian/ Nepali dishes | Rs 1500 |

Activities
Our home stay tours provide a unique, relaxed and fulfilling holiday; which is an opportunity to explore rural lifestyles, interact with rural people, and enjoy a relaxed holiday in serene and scenic environment amongst friendly people. Guests can also learn some village skills and try their hand at village chores.
The Awake and shine School welcomes interaction with guests.
All tours are tailored to your preference. You will be staying at genuine home stays ; where you and your companion/ family members will be the sole guests and will enjoy personal contact and privacy
Your host family will organize your day as per your requirement. They will:-
Walk you round the surrounding hamlets, and introduce you to the various families, to enable you to get a peep into lifestyles.
Walk you round the agriculture fields and, explain the activities in progress . Also arrange for you to participate, in village activities and chores, such as Traditional ploughing, Care of cattle, milking, Care of pigs, Collection of firewood, building bamboo frame house, grinding in a stone grinder, and more
Arrange a visit to the Awake & Shine Primary School
Arrange for you to visit the local shaman , traditional blacksmith or the village tailor
If you stay longer you can learn: Bamboo Basket making, Straw mat making, Making chang beer out of Kodo( Black millet), Cooking local dishes.
There is plenty of opportunity to interact with the local folks, participate in village feast, singing and dancing, archery and more
"Not only was everything well organized but the hospitality and friendliness of everyone who we were with was outstanding. I also want to say how much we enjoyed staying in the Samthar village area, both at Gairi gaon and at Charles' home stay. That whole experience, including the visit to the Awake and Shine school was extremely enjoyable and informative. I want to wish you well with your efforts in relation to the school as well as to the other development work you have initiated in that village."

Arthur Heidebrecht, Canada
Trekking , village walks, and mountain biking are the best ways to explore the country side. We have created several options to cater for both the easy going types and the hard core trekkers and bikers. Package tours for 2,3, and 4 night stay at village home stays are available. We will be happy to tailor a holiday just for you
How to reach Samthar ?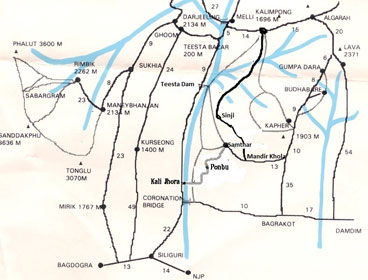 Guests can easily reach Samthar from Bagdogra/ NJP via Kalijhora and Ponbu in 2.30 hrs, and from Kalimpong via Rilli Valley and Sinji, also in 2.30 hrs. The ride is rough in parts, but is compensated by the refreshing scenery enroute.
We arrange transportation by exclusive vehicles, owned and operated by the local community from NJP, Bagdogra, Kalimpong or any other location in North Bengal and Sikkim. Prices range from Rs 2500-3000 per MUV
Several village taxis run daily between Kalimpong and Samthar departing from Kalimpong around mid day. Prices per ticket are around Rs 150. Contact Tara Bhujel at Mobile 09932701084 for booking in shared taxis.
Our Address: Project Awake and Shine
Project Awake and Shine , Gurudongma House, hill top, Kalimpong, 734301, West Bengal, India

Mobile: +91-9434047372, +91-7432900409, E-mail : awakeandshine@outlook.com; gurudongma@gmail.com
For India wide Tours and Treks go to www.astonishingindiatours.com. Mob: +91-94340-62100,