Joy

& Graeme Budd

and The Rotory Clubs of Benalla and Bairnsdale, Victoria, Australia
Joy and Graeme Budd, came to Kalimpong and Samthar as tourists, in 2005. At a time the school did not exist. They were the first to sponsor a child when the School was started in 2007. Ever since they have been regular visitors and have introduced the school to the Rotary club of Benala, and the Rotary club of Bairnsdale; Joy and Graeme have been our inspiration for many projects which have borne fruit with generous help from The Rotary club of Benalla and Bairnsdale. Read their Story as narrated by Joy and Graeme Budd
Benalla Rotary Club Comes to Samthar
On a cold winter's day early in the year 2005 we arrived at Gurudongma House Kalimpong, in the Darjeeling Hills to a very warm welcome from General Jimmy Singh and staff. The idea to visit this remote part of the world came from reading a Lonely Planet article. In addition to touring Kalimpong , if we were brave enough we could also visit a very small hamlet called Samthar where "the General" owned a farmhouse.
It was worth the "risk" as we had already decided that Lt Gen Jimmy Singh was an interesting person who knew the region 'like the back of his hand!'
We never quite understood how a 50km journey could take 2 1/2 hours. In fact we were told it was probably quicker to walk! Subsequently, this proved to be correct. At least, when you travel so slowly you have the opportunity to see the beautiful scenery.
Yes it was worth the risk. We were very happy to finally arrive at 'The Farmhouse' which is easily identified by the tall pine trees in front.
Like everyone else who has visited this "neck of the woods" we were entranced with the beauty of Samthar, especially by the friendly local people. Whilst we were at the Farmhouse we came across two young Gap students from England who arrived at Samthar to teach English in a one room building. This was an extremely difficult task as the facilities were almost non -existent, but the enthusiasm for an education was paramount as whole families turned up. To learn English is seen as a 'passport' for a job
Perhaps this was when a seed was planted in the mind of The General as it was not too long before he decided to set up a school to give back to the community, in appreciation of their generosity to him over the years. The pictures below show what a village primary school class room looked like and what a class room at awake & shine looks like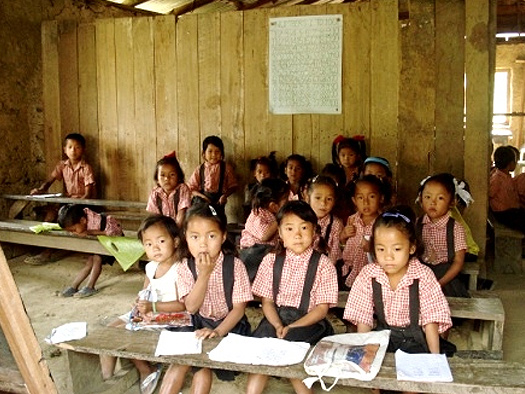 Village Primary School Class Room 2007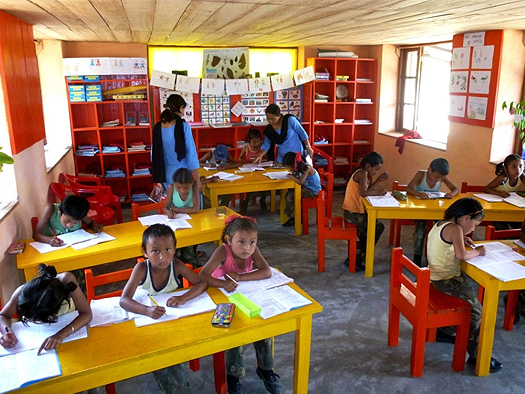 Awake & Shine Class Room 2009
We could liken the beginning of 'The Awake and Shine School 'to the planting of the seed of one of the local Himalayan pine trees. It has grown into a beautiful tree with many branches that have spread to all parts of the globe such as Benalla, in Australia.
Our community is also small, so we understand how such communities operate and the way they unite to support a worthwhile project, especially through service organizations such as Benalla Rotary Club District 9790.
Our involvement in the school began in a small way approximately 7 years ago, by sponsoring a child to attend the school. This seemed a good way of donating money to help a child, knowing that every rupee would contribute to the child's education. All administration was handled by "The General" on a voluntary basis. Part of the school charter is the expectation that parents of each sponsored child contribute towards the education of their child by paying some money, so it is a shared responsibility
Members of Benalla Rotary became interested in sponsoring children after hearing our stories and watching our presentations. Such as describing the children as they skipped along the road, laughing and chattering on their way to school. Many children walk for more than one hour to and from school each day but are still enthusiastic and motivated to attend school regularly.
We have developed a pattern of visiting the school every 18 months. With each visit we have learnt more about the needs of the student community, including the need to improve the diets of the children, as the main staple was rice, with little inclusion of fruit and vegetables. Here we can compare the diets of children at Samthar with the diets of Australian children. Both need education in eating more fruit and vegetables. How to achieve this is the challenge!
The Green Thumb project was introduced into the school based on the Stephanie Alexandra concept of school gardens in Australia. The children planted and grew vegetables and then learnt how to cook them. Our club members contributed to set up the children's garden and to fence it. An unintended outcome was the enthusiasm shown by the parents in the growing of vegetables in their home gardens
We saw the importance of demonstrating a practical teaching method for the children, in the presence of their classroom teacher. We wanted them to see the link between eating fresh fruit and vegetables and good health. I think we all learnt something, such as the importance of doing experiments that relate to the local environment. Teaching how food keeps your body healthy can be made fun. For example we cut up apples for the children to eat in class and used a body suit to indicate what happens to food as it travels through the tunnels and emerged at the "bottom end" This met with lots of giggles and excitement.
These examples were recorded as photos that we then developed into a presentation for our Rotary Club members to see how the 'Green Thumb Project was being implemented. These presentations led to a major increase in sponsorship and 23 interested people from Benalla and other Rotary groups such as Bairnsdale, have accompanied us on our subsequent visits to Samthar, to see the school first hand. Most have had a special interest in visiting remote communities and offering help in their field of expertise, With each visit people are overwhelmed by the children's enthusiasm, energy and desire to learn.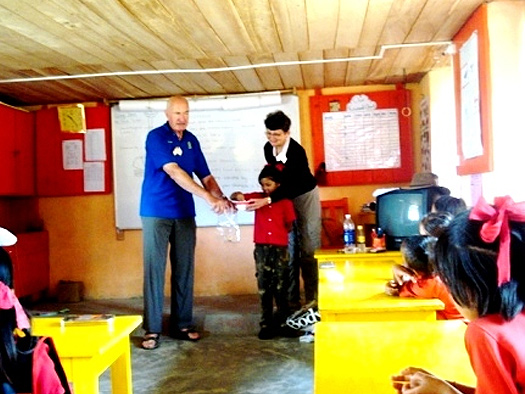 "Down The Food Pipe" Demo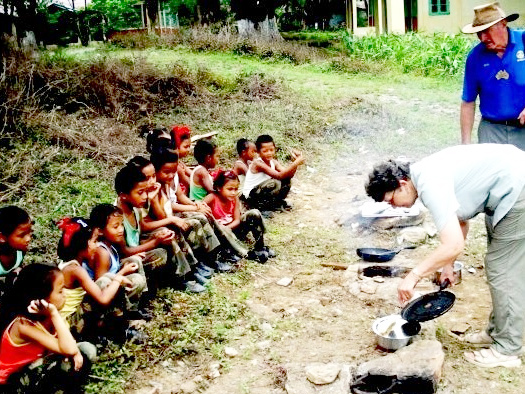 Outdoor Cooking Demo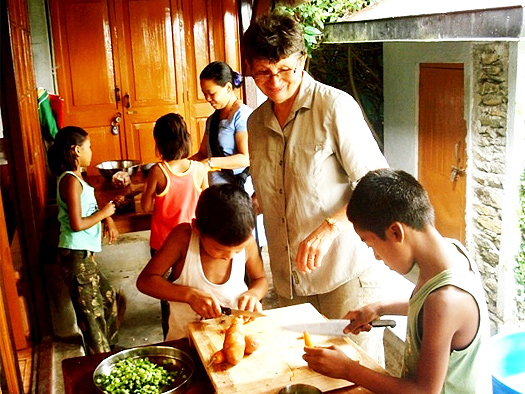 Cutting & Chopping
As a result of these visits Margot and Ula; two experienced teachers from Benalla and Bairnsdale have donated their time by working in the school with other visiting teachers from the UK and France, to challenge the Awake and Shine teachers, and to improve their teaching and leadership skills.
How can visiting teachers make a small community school sustainable and independent in the long term?
With the financial support of Benalla Rotary Club, and involvement of local Benalla and district schools, plus support of the Awake and Shine School Community, two Samthar village teachers were invited to visit Benalla for two months. They stayed in members homes and visited the entire range of schools for children. This project was a significant achievement.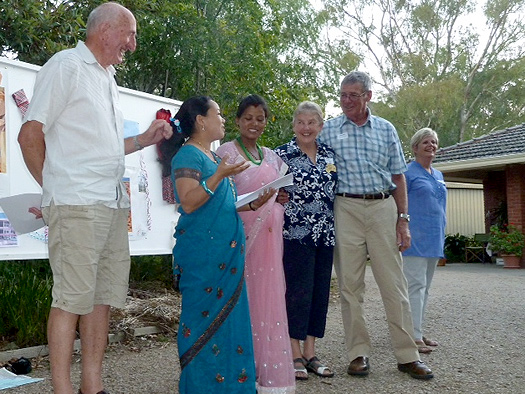 Sponsers Get Together, Australa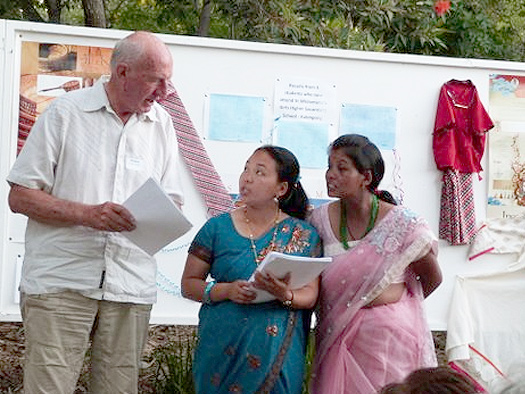 Sponsors Meeting, Australia
The underlying philosophy and future of this project relied on the two teachers adapting and implementing new ideas and concepts from the Australian system, to their local school. Being invited to Australia gave the two teachers credibility and therefore confidence in improving their English and teaching methodology. 'As you can't aspire to greater things if you do not know what to aspire to'.
Since the return of the teachers to The Awake and Shine school, they have demonstrated confidence by taking on more responsibility and leadership roles with reassurance via the internet and continued mentoring from all the visiting teachers. One of them ;Angella Lepcha is now the School Principal, and Pascalina Lepcha is now head of the Nursery and Pre Nursery section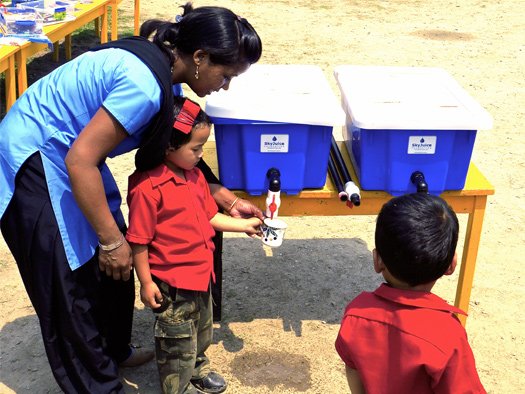 Water Purification Box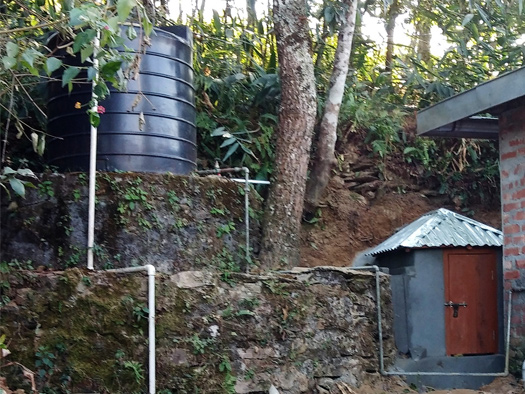 Water Harvesting Storage & Filtration
The health of the 'pine tree' continues to develop and grow and has branched out to a further project on water harvesting. Benalla Rotary Club with the help of a matching grant from District 9790 is in the process of installing a large water harvesting project for the 'Awake and Shine School. This will add to the improved health of the school population. This initiative may transfer to the village homes where families may invest in water tanks to ensure a regular supply of water rather than have to walk long distances to collect water from a spring.
At the same time a reading project comprising 150 titles, using local people in local situations has been produced and has been published for the 'Awake and Shine School' with the financial support of Benalla Rotary Club, and Bairnsdale

Explaining Margot's Readers
In 2018 "Train the trainers" English literacy workshop, inspired by Benalla RC was organized by the school. Margot Sherwill and Ula Sheather conducted this workshop with help and support from the Awake & Shine School teachers and children who laid on class room demonstrations to drive home the concept and teaching methodology behind Marot's readers. A dozen teachers from schools at Kalimpong and Nepal attended the sessions, along with teachers from Awake & Shine. One set of Margot's readers was given away to the visiting teachers, to promote their usage. Overall teachers at awake and shine gained confidence in their ability as trainers of the future.
Joy and Graeme Budd
Benalla, Australia