Project

Chota Suruk

Primary School, Homestays and Experiential Tourism
Background
The Awake & Shine Charitable trust has been supporting the Awake & Shine Primary School at Samthar since the year 2008. The school is fully functional and has established a reputation as a rural school of excellence. After finishing their primary education at the school, the children are able to secure admission in English medium schools and compete with urban children. Some of them are even topping their class, whilst most are securing a place amongst the top ten.
The project
Project Chota Suruk primarily aims to replicate the Samthar Model an English medium Primary School, at the village of Chota Suruk, in District Kalimpong. To provide livelihood and place Chota Suruk on the Tourist map, it is also intended to develop homestays with philanthropic assistance and Experiential Tourism for sustainability.
---

Chota Suruk top View
The hamlet of Chota Suruk was chosen to develop a second Awake & Shine school because it lies atop a forested ridge isolated and relatively remote. Children have to walk for more than two hours to reach a primary school. The community request for the school was backed by donation of land for the school by a local community member.
Project Chota Suruk is planned to be completed in 6 years from 2018-2024, by building infrastructure for Nursery, Lower Kindergarten, Upper Kindergarten, Class 1 to 4, with allied facilities such as toilets, office, resource store, staff and conference room. One class will be added each year.
---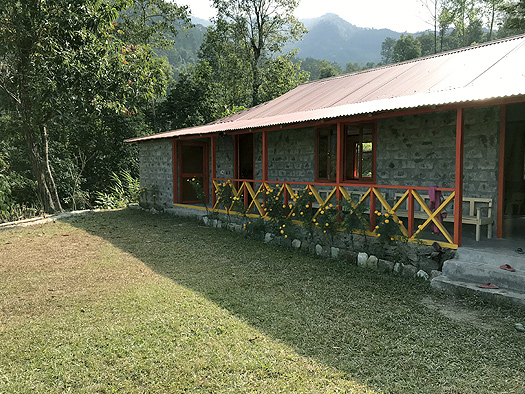 Nursery class room North view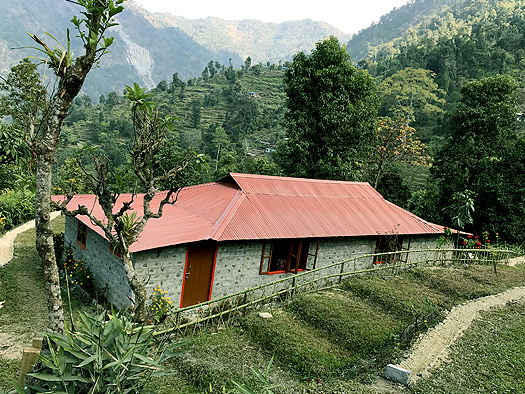 Nursery class room South view
Work commenced in March 2018, to get ready for operation in February 2019. The building for the nursery class with toilets, resource store and office is complete and ready for the innaugyral class starting in February 2018. Landscaping, laying of lawns, play areas, and garden is in progress. Nursery teachers and support staff have been recruited and being trained at The Awake and Shine School, at Samthar since February 2018.
---

Teaching staff under training
We plan to also promote home stays and camping facility The idea is to run Experiential learning week- end camps for children studying in schools in the surrounding urban areas, and 4-7 day tours for tourists . Our experiential tours to the Samthar- Chota Suruk Area will provide some funds to operate the school, and income for the community will be generated through homestays, and tour operations.
---

Forest Foraging
Based on homestays and camping our focus will be on "slow travel" and "slow food" – Some of the activities we plan to develop will be conducted for School children, as well as for tourists:-
Local lifestyle activities – working with stone, bamboo, thatch, Farm animals and so on.
Nature activities – inquisitive hikes, birding, and camping.
Gardening for exotic vegetables and micro greens, fresh herbs and edible flowers.
Foraging forest walks for wild foods and creating healthy recipes.
Learning about making fermented food, pickles and fermented beer.
Construction of mud oven and baking Sour dough bread.
Fund raising for Chotta Suruk School project
The Awake and Shine Charitable trust , is providing the start-up funds. We need to raise funds to complete the project . Initial estimate for fund requirements for construction and operation of the school is INR 8,00,000/- per year, from 2019 till 2024.
Fund raising for associated Tourism project at Chota Suruk
Philanthropic assistance to village homestays is estimated at INR 2,00,000/- per year for 2 years. For details about donations for fund raising for project Chota Suruk, click here