Samthar

Farm House

Experiential holidays with personalized hospitality
The Samthar Farm House is a Premium homestay, favored by visitors seeking unusual places, with personalized hospitality. This is a nonprofit establishment. It has been set up to provide hospitality skills and earning to the local community and to support the Awake & Shine Primary School.
The property was developed by converting an abandoned Lepcha tribal farmhouse into a comfortable country residence, whilst preserving its natural stone and old timber construction. The house nestles in a clump of pines, with a terraced nature garden rising to the rocky outcrop at the top of the hill. The natural landscape has been retained. The view rivals Tiger Hill (near Darjeeling). Sunrise and sunset views can be described as simply breathtaking.

IThe undoubted highlight of our holiday was the stay with you at the Farm House. It really is a magical place and the food was the best we have had in India and Nepal. --------- John & Ann Thomas, Oxfordshire, England
If there is something close to paradise – The Samthar Farm House surely must be part of it. We enjoyed the overwhelming nature, the luxury of a perfectly styled house and superb cuisine. We shall never forget the warm service. --------- Thorten Kuhmann & Anette, Frankfurt, Germany
Thank you, thank you, thank you

This has been a very special time for us. This really is another world for us, and we have been so happy to be here and feel so privileged. Every part of our experience from the stunning scenery, the fabulous birds, the cooking, the cosy house (and cosier bed) to the fantastic, happy, warm, and welcoming people. Your hospitality will live for ever in our hearts. Thank you so much.--------- Dave & Mandy Hawkins, Norfolk, UK
A beautiful luxurious and peaceful experience. Everything was absolutely wonderful. I hope to come back to this little slice of Heaven someday soon. --------- Sydney Hartsock, New York, NY, USA
Wonderful place, perfect organization, cottages really clean and pleasant, place so peaceful and restful, beautiful scenery and snow clad mountains, excellent walks, tasty meals, good conversation, pleasing staff, and people so welcoming. A great and unforgettable experience. Thank you. I merci beaucoup. --------- Sabarina Dumpierre en Bray, Roun, France.
Lounge and dining
---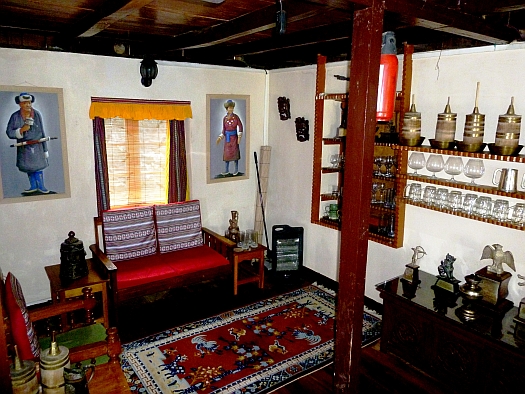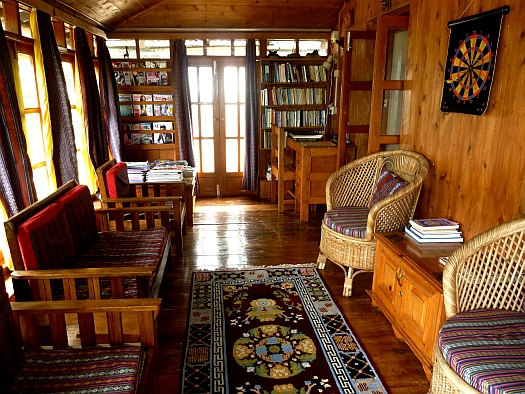 The house has a unique ambience. The lounge and reading room have old wooden floors, rafters, pillars and ceiling. Furnishing is in traditional weaves.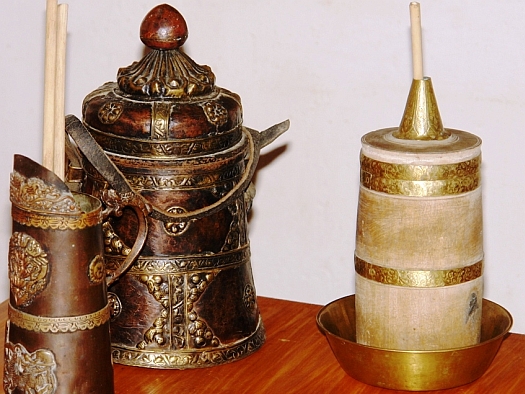 In the evenings local millet beer fermented in leaves in keeping with" grandmothers" recipes are served in traditional containers.
Dining is an experience. The table service is immaculate, and oil lamp, and candle lit dinners are the norm. Our home cooked meals have been researched from Indian, Western, Chinese, Tibetan, and Nepalese recipes.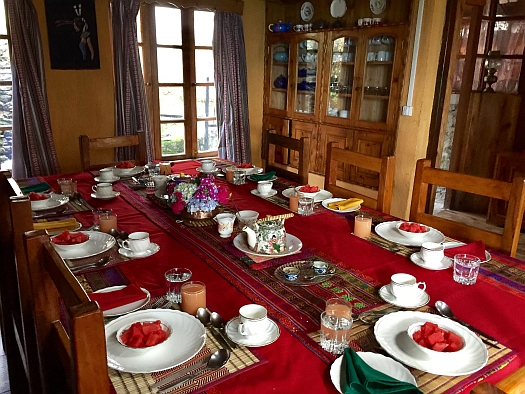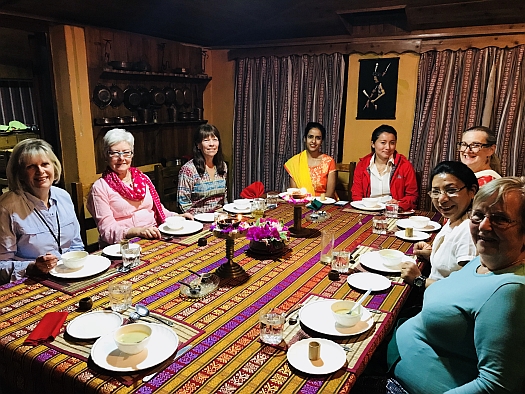 Guest Rooms and Cottages
The Farmhouse offers just two heritage guestrooms in the original Farmhouse. The floor, walls and ceilings are in old polished wood. The cozy rooms are furnished for simple comfort. Modern plumbing and toilets have been provided.
---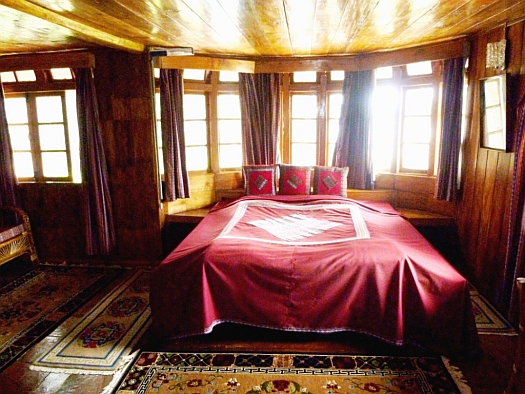 Heritage Suite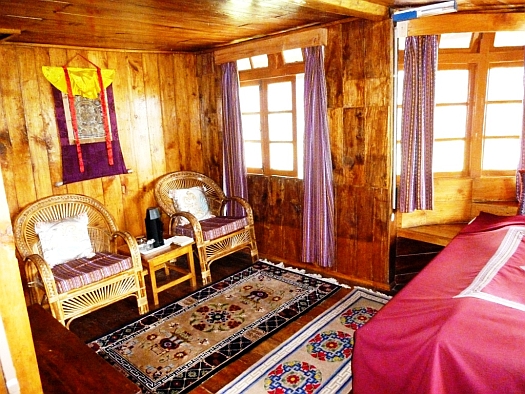 Heritage Suite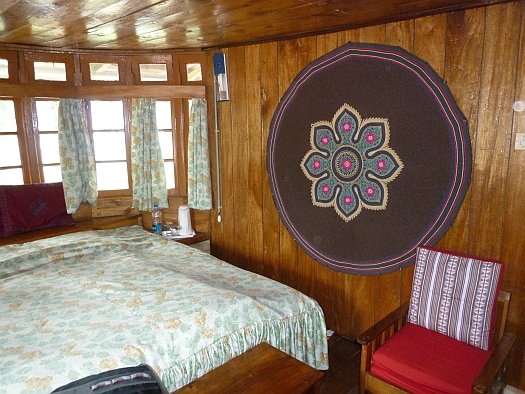 Guesr Room in Main House
Three cottages set in the terraced garden, offer four double rooms.
---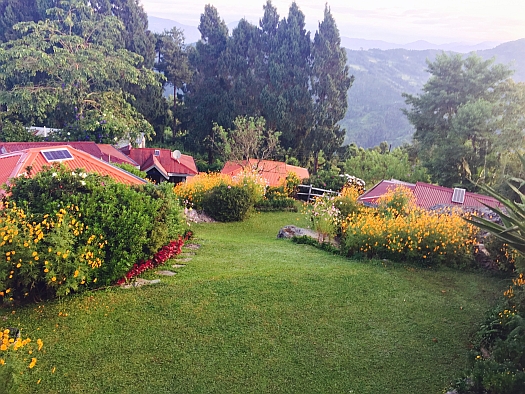 Cottages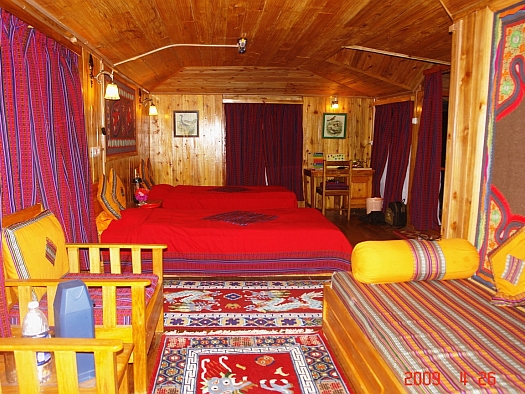 Garden Cottage Suite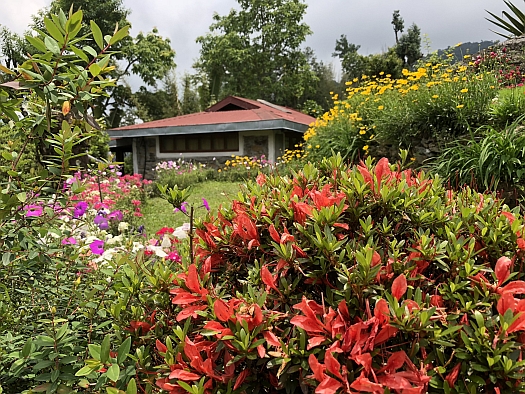 Honey Moon Cottage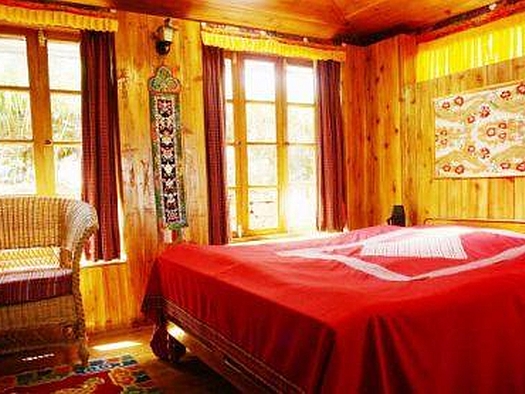 Honey Moon Cottage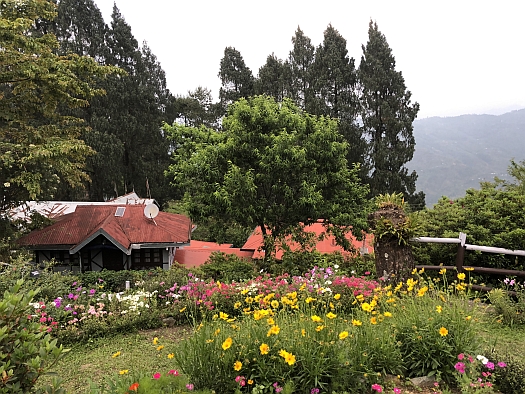 Garden Cottage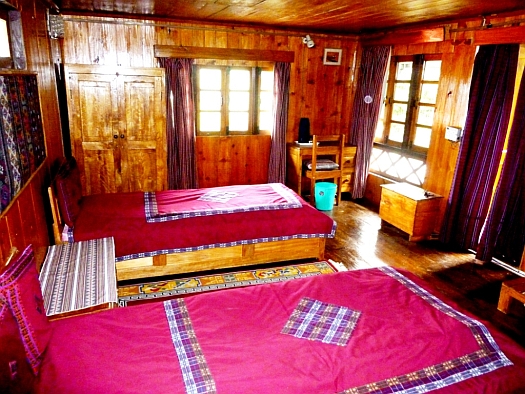 Garden Cottage
Responsible Tourism
Samthar Farm House is eco-friendly. We use a combination of solar energy, and electricity for lighting. Our water is piped from natural springs by gravity. We harvest rain water and heat it with solar energy. Cooking is done on gas and solar cookers. Our staff is locally recruited and trained in-house, to cater for our brand of spontaneous hospitality. We care for our guests, with personalized service
Nature garden
A nature garden has been developed by converting terraces used for cultivation into a terraced garden, which rises to a rocky outcrop in a blaze of flowers. Several secluded lawns offer guests privacy, the top lawn offers grand stand views of the Mount Khangchanjunga, and the Chola Range, separating Sikkim from Tibet. Sunrise and sunset views are breathtaking.
---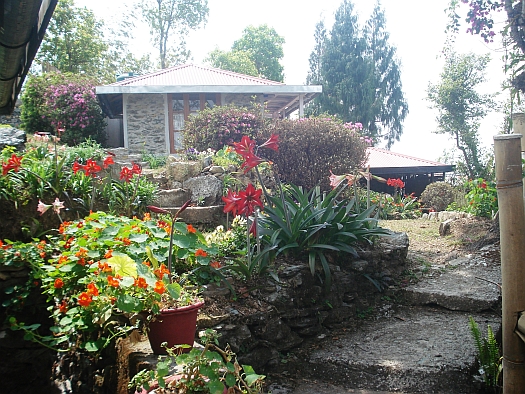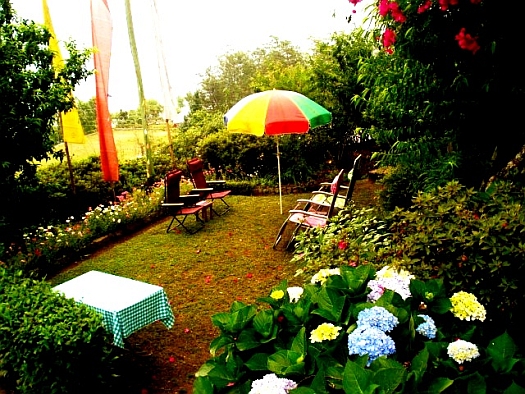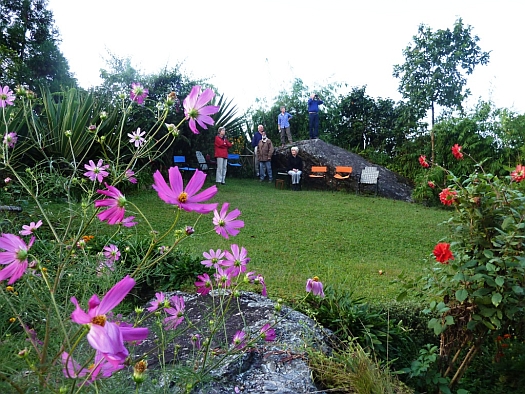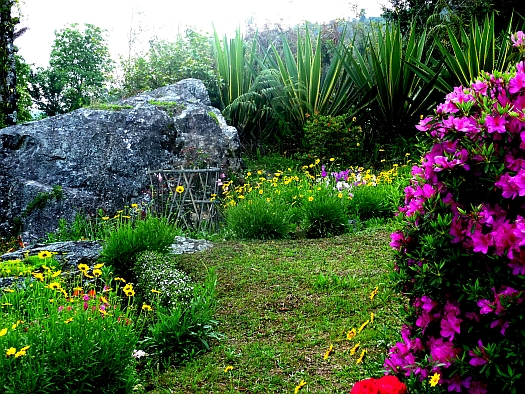 Activities
The Farm House is an ideal location for a walking holiday. Choose from several one day guided treks. It is an opportunity to explore rural lifestyles, interact with rural people, and enjoy a relaxed holiday in serene and scenic environment amongst friendly people. Guests can also learn some village skills and try their hand at village chores.
Not interested in trekking ? you can hire a car, and visit outlying villages. Some things you could do -
Village lifestyle walks
Trekking
Mountain biking
Camping
Experiential activities such as cooking, baking in a mud oven, bamboo mat making, millet beer making, village black smithy, song and dance and more
---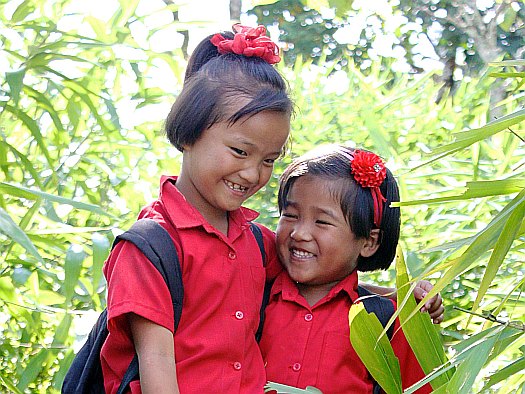 Happily to School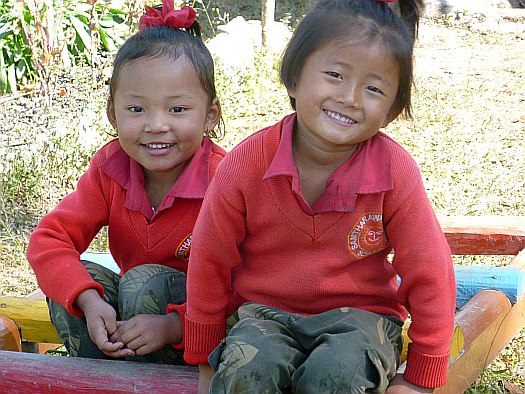 Friends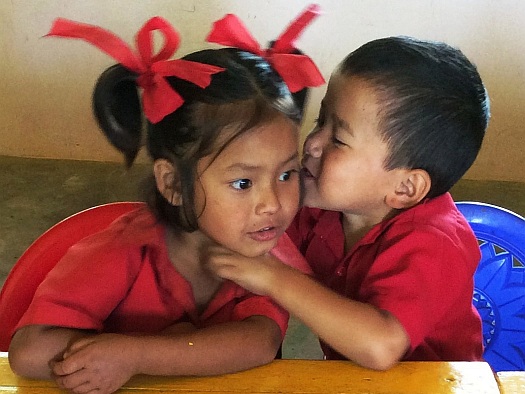 Passing The Message
The Awake and shine School welcomes interaction with guests. Guests have rated their visit to the school as memorable and inspiring. For more details click here
Reimbursement by paying guests
The house provides just six guest rooms. Rates for reimbursement range between INR 5000-6000 for double room with all meals for two persons, with all meals for adults for a double room. For details please send enquiries to gurudongmatours@gmail.com and gurudongma@gmail.comor call +91-9434062100
It is a rare thing indeed to experience hospitality of such a refined and genuine level. Everyone offered a type of gracious service and warmth of hosting that is so rarely encountered in these graceless packaged impersonal days. It is an amazing quality for Cuisine and hospitality. --------- Jeffery Newcomb , Washington DC, USA
Samthar Farm House is a beautiful blend of scenic views, cultural traditions, and hospitality with a personal touch. It is something to be experienced and not just read about. --------- UNICEF, Calcutta Field Office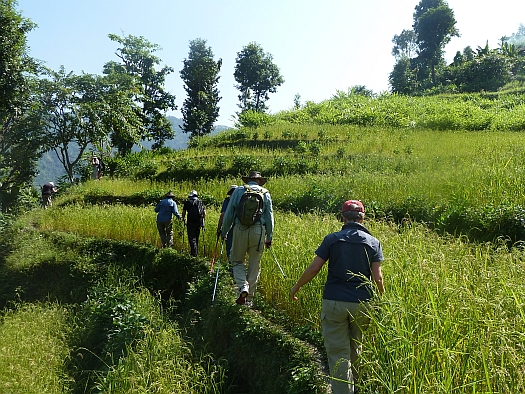 Trekking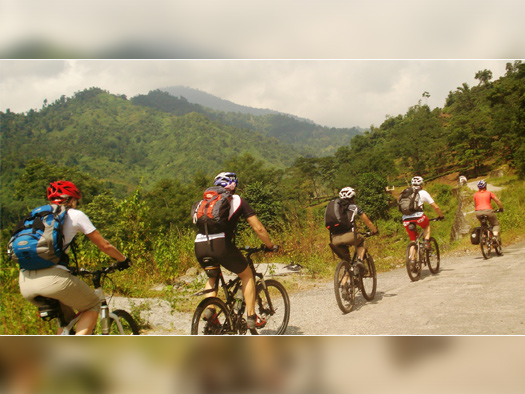 Mountain Biking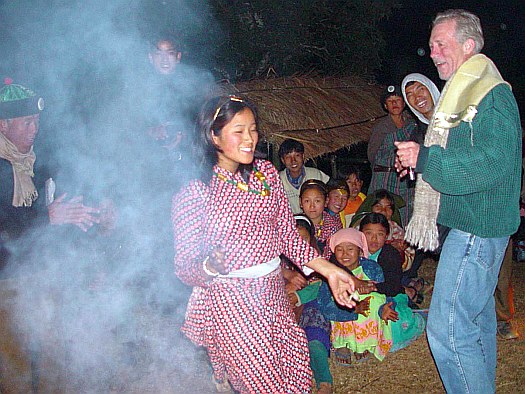 Campfire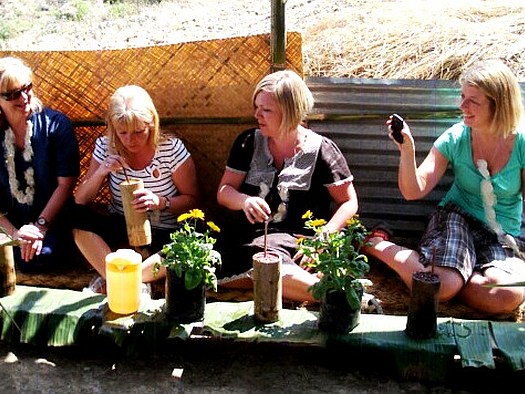 Lepcha Village Feast
There is plenty of opportunity to interact with the local folks, participate in village feasts, singing and dancing, archery and more...
Pick up and drop services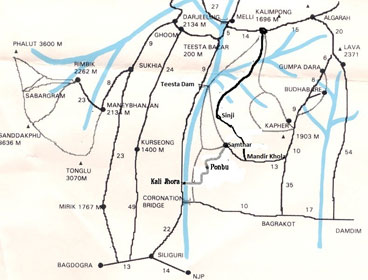 We arrange transportation by reserved vehicles, owned and operated by the local community from NJP, Bagdogra, and Kalimpong.
Several village taxis run daily between Kalimpong and Samthar departing from Kalimpong around mid- day. Prices per ticket are around Rs 200/-. To book a taxi seat contact Tara Bhujel +91-9932701084.