To show case the Samthar Valley, home stays have been set up with philanthropic assistance as part of integrated village tourism project Awake and Shine. The project aims at generating earning for the community, through tourism, and providing quality education at the foundation level.
Village home stays are hosted by individual community members Home stay cottages have been donated to members of the local community with philanthropic funding or built by individual owners with philanthropic help from Awake & Shine. All earnings go to the owners.
---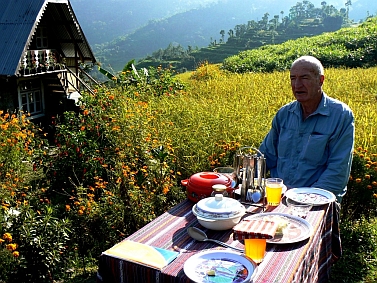 Charles Lepcha's Homestay Breakfast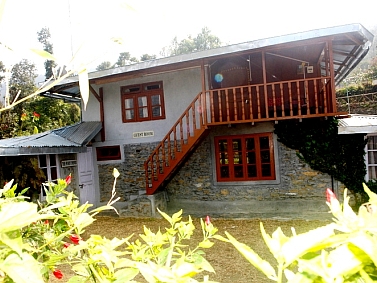 Tara Bhujels Deluxe Homestay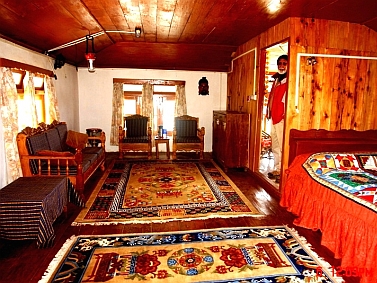 Inside Tara Bhujel's homestay
Paying guest reimbursement: Room + all meals
Charles Lepchs's homestay at Kabi West 01 x dbl room.
INR 2000/- for 02 Adults
Tara Bhujel's deluxe homestay at Awake & Shine School, Gairi Gaon 01 x dbl suite
INR 3000/- for 02 adults
Pushpa Bhujels homestay at Gairi Gaon 01 x dbl room
INR 2000/- for 02 adults
What to expect ?
All village homestays have direct views of Mt Khangchenjunga. The accommodation caters for comfortable Double / Twin Guest rooms, with furnishings bed and toilet linen. Attached western style toilets are provided for all. Hot water is available on request. Room heaters are provided in winter at extra cost. Extra beds can be arranged for children.
---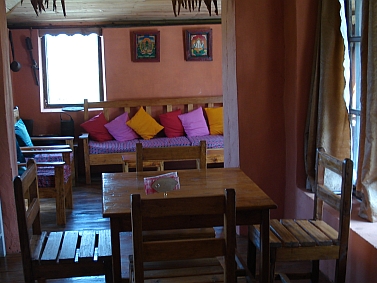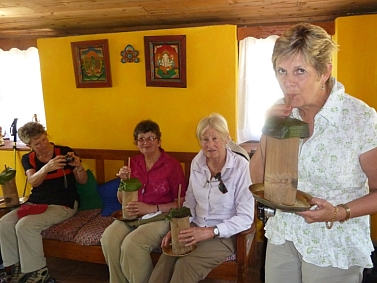 Guests are served on a table set with crockery, cutlery, and table linen. They can also choose a traditional floor sitting service, served in traditional utencils / leaves The cuisine provides for either western or Indian style breakfasts with Indian, Nepali, Chinese and Lepcha dishes, for lunch and dinner. Food is home cooked. Local products are used to the maximum extent. Chicken or pork is served for dinner. Lunch is vegetarian.
Our very favourite place of all those we stayed at was Samthar village. There was world of difference between this and the organized tourism we found in Bhutan.. People were very attentive and kind and the food was so nice and well prepared. It was great just to be able to hang out and on the first morning we enjoyed just being with children. Charles was a great guide always willing to engage in conversation about the locality, village life and culture. It was so good to get to meet local people on our walks and be able to visit the heart of life in the valley. We left Samthar a little sad in our hearts - a sign I think that it was possible to get to know people just a bit in a short space of time - enough to glimpse their lives and have a hope for their future wellbeing. --------- Paul & Helen, UK